The
Deep Sea News
guys have alerted us all to a
libelous bit of writing
by Jeff Vrabel that further convinces me that humans are not to be trusted with ink.
When possible, I like to keep close tabs on the world of octopuses, for two reasons: 1. Everybody has their hobbies, mine just involves cephalopod mollusks and don't you judge me, and 2. I often get the feeling that they're plotting something.

It's like a weird sixth sense/octopus whisperer sort of thing. Come on - you know you've had that feeling, when you're at home alone on a rainy night, reading by the midnight light of a single lamp, when all of a sudden you're alarmed by a subtle yet inescapable fear that there's an octopus over your shoulder watching you. Yeah. So it's best if a few of us are just keeping an eye on them, is what I'm saying.
The Deep Sea News guys sum it up in their title: "Cephalopods Are Nuts".
*ahem*
We're not
nuts
, we're just vindictive
And if history's predictive
You can trace the simple logic that should quake you to your core
Take a glance at any menu
Look for "calamari", then you
Have a taste of what humanity thinks squid are destined for.
People order up their sushi
Without wondering just who she
Used to be before they sliced her up and threw her on some rice.
People think it doesn't matter
That what's now your Tako Platter
Was an octopus, intelligent and social and quite nice.
Even cuttlefish are fried up,
Sometimes smoked or merely dried up
And available for purchase just like any other snacks!
With our lives so torn asunder
I must say that it's no wonder
Every now and then, some octopus or squid just sorta cracks.
So if
you
are going fishing
For a humboldt squid, start wishing
That the rest of us don't see you as you're reeling in our friends;
Cos for those who know the history
It comes as no great mystery—
You've eaten us for much too long; it's time to make amends.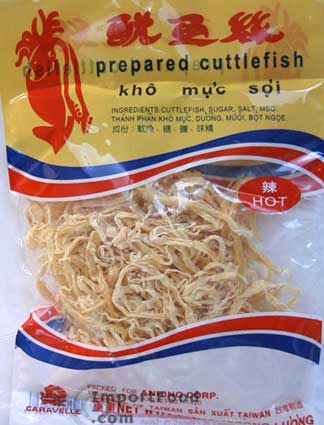 Yeah, that's right--just like it says on the label--this cuttlefish is prepared!